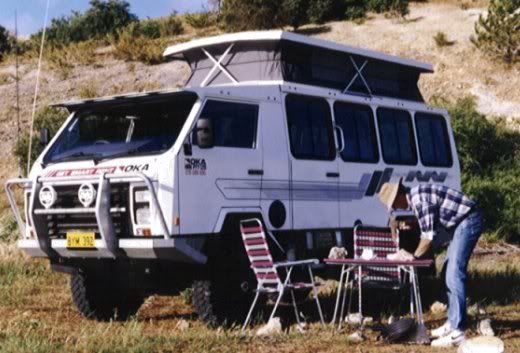 OKA 4wd explained
History
OKA started in 1986 when a group of Australian mine executives discussed that each of them needed an off-road truck with a three ton payload and nothing on the market at the time filled those requirements. Those executives formed a consortium and the OKA brand was born.

[1]

Having agreed on the blueprints, the group undertook a comprehensive market study covering over 1,200 mining companies, government departments, farmers, the Australian military and potential private users to establish the parameters for the design.In 1987, work on the first prototype began and in 1988, it underwent its first test. Prototypes continued to be produced even during production up until 1992.

[1]

Soon after, the first production model, the 'XT', entered production. It was followed by the 'LT' which was also followed by the current model, the 'NT'. These vehicles have been supplied to government departments, tour bus operators, private industries, mining industries, the military and recreational companies and are currently being sold in

Papua New Guinea

and

Africa

(as well as

Australia

) and are being developed for the UAE, and

Europe

.

[3]
Models
OKA has made and sold 2 models (the 'XT' and 'LT') and is currently making and selling another (the 'NT'). The models are sold in various body shapes including Cab Chassis, Single Cab, Dual Cab, Multi Cab and Tourbuses.

[3]
Technical collaboration with Hindustan Motors
OKA has licensed its technologies to

India

n auto maker

Hindustan Motors

to make their RTV brand of multi-utility vehicles.

[4]
Links to Malaysian Vell Paari
On 24th August 2011,

The Malay Mail

carried an article regarding various investigations being carried out against OKA 4wd, for 'allegations of misappropriation of millions of ringgit, missing accounting files and "stolen" intellectual property manuals.' Manuals valued at RM80 million had gone missing. They had contained trade information for the manufacture of all-terrain trucks and tour buses. Funds of the company had also been mysteriously siphoned out of Australia to a private account in Europe. There was also allegations of unpaid wages. Vell Paari, who controls OKA 4WD through Reymer Pty Ltd, denied responsibility for the matters raised, saying that he spent most of his time in Kuala Lumpur.

[5]

Vell Paari is the son of Malaysia's ex-Minister of Works

Samy Vellu

.
External links
Notes and References

Oka
1992: The first Oka four wheel drive mark-1 was built in Western Australia (WA)
1995: The Oka design was revised and the cab made more stylish and comfortable.
The Oka has a 4-litre Perkins diesel engine, Dana Spicer manual gearbox, Rockwell transfer case, and Dana axles. Front and rear suspension uses live axles and leaf springs. Ventilated disc brakes are fitted all round. GVM is 5.5 tons , so a truck licence is needed to drive an Oka -L. A11ison
In the late 90s, Oka Motor Co. moved its administrative offices to its Bibra Lakes (WA) factory.
1998: A crew-cab Oka 4WD.


1998 Oka 4WD

4WD truck, various bodies, 2 seats or more

Loa 5327mm (cab chassis), width 2000mm (cab), height 2470mm (cab)

Wheelbase 3045mm, track 1658mm/1605mm, grnd clearance 236mm

Approach 41°, departure 35°, ramp break over 145°

Turning radius 7.25m

Weight 3049kg (cab chassis), GVM 5500kg, towing to 7000kg GCM

Perkins Phaser 110MT, 3.99-litre, diesel, 4-cyls, turbo-charged, 2-valves/cyl, ohv

Bore 100mm, stroke 127mm, c.r. 16:1
Power 81kW at 2800rpm, torque 354Nm at 1600rpm

Transmission Dana Spicer T5-290 (T5X-2276) 5-speed manual (5.36:1, 2.62:1, 1.51:1, 1.0:1, 0.79:1, rev 4.73:1); Rockwell T223 2-speed transfer case part-time 4WD (lo 2.05:1, hi 1.0:1)

Front axle Dana Spicer 60F 4.88:1 2400kg, rear axle Dana Spicer 70 4.88:1 3100kg

Suspension live-axle & leaf/ live-axle & leaf, brakes disc/disc (325mm/325mm), hand-brake mounted on transfer case

Tyres 8.25R16 or 9.00R16, fuel-tank 2×105L